Welcome to the Gluten-Free Games Wiki
Edit
Hey there! Welcome to the Gluten-Free Games Wiki! In this wiki, we will be discussing the simulators and the animals used and created from this wonderful company. We need all the help possible! Be a wolf, cat, tiger, cheetah, or a dolphin! Have fun!
Bio:
Welcome to Gluten Free Games! We Love Animals!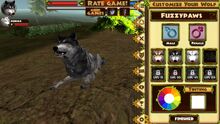 One of our favorite things to do is make animals games! From our dearly loved Virtual Pets to our highly praised Animal Simulators we are constantly trying to bring you new ways to experience the animals you love!
We Love Supporters
We are as big of fans of action as anyone. And while we love pouncing on zebras as a tiger,we want everyone to be able to pounce with us. So that everyone can play, we default to no blood or gore in our games, but some do have the option to turn it on in the settings.
We Love Feedback!
Have questions, comments, or concerns? We love to hear from our customers and are constantly incorporating suggestions from our fans. Email or message us on Facebook and you can be sure you'll hear back from us!
Gluten-Free Promise
With all of our games you will always get the full game with no ads or additional purchases!
In this wiki we have all the information you need to know about these games, like the different breeds in Dog Simulator, what colors your cheetah can be in the Cheetah Simulator, or where the Megaladon is in Dolphin Simulator, etc... But, before we can get there we need you to contribute! : )
Latest activity
Edit
Community content is available under
CC-BY-SA
unless otherwise noted.